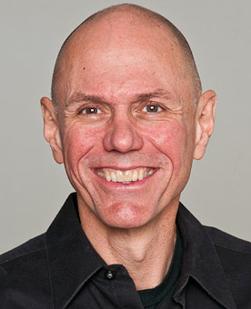 An award-winning composer, as well as an accomplished and versatile musician, choir director, and educator, Brian attributes the success of his multifaceted career to a love of working with people and a passion for the arts.
Brian received his Bachelor of Music degree from the University of British Columbia, and went on to further music studies in London, England; Toronto; Ghana; Cuba; Oakland and New Orleans. His love for music of many kinds has led to a diverse career that includes orchestral and choral conducting and performing, musical theatre, and composing music for film, television, stage, and the concert hall. Brian has twice received Vancouver's Jessie Richardson Award for original theatre music, and his choral music is performed worldwide.
As a vocalist, Brian performs with his jazz quartet at festivals, clubs, and in concert. He also performs with Dawn Pemberton and Karla Mundy in the vocal a cappella trio, TriVo.
In 2010, Brian founded Vancouver's vibrant, 100-voice City Soul Choir. After 10 joy-filled years with the CSC, in 2019 he handed the music director reins over to his collaborator in TriVo, the wonderful Karla Mundy.
Brian is known internationally for his lively choir workshops, conducting skills, gift for bringing out the best in choirs, and his exhilarating and inspiring choral compositions / arrangements.
As an organizational speaker, educator, and facilitator, Brian takes the elements of creativity, intuition, and improvisation from the performing arts and transforms these elements into powerful, interactive group experiences that develop leadership, innovation, and team-building. His programs include groundbreaking work such as using musical improvisation to enhance leadership and teams, and using the voice as a tool for personal development. Brian brings spontaneity, humour, and originality into all of his presentations. Participants experience growth not only in their work, but in all areas of their lives.
In 2022 Brian joined Broad View United to help form their community choir after the sudden passing of Jim Sparks.  BVU is thrilled to have Brian join the team!